These companies rock: Albany's 30 Best Places to Work for 2014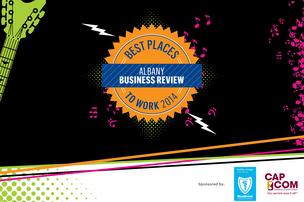 Oct 29, 2014, 10:56am EDT UPDATED: Oct 29, 2014, 1:07pm EDT
Thirty Albany-area companies, from architecture firms to software developers, have been named Best Places to Work for 2014.
The 30 winners are broken down into five categories based on the number of employees, from small companies (10 to 25 employees) all the way up to companies with more than 176 workers.
To see the winners, click on the image on this page to access our slideshow of the winning companies in all five categories.
Now in its 11th year, the contest has become a showcase for local companies that put time and effort into creating a rocking office environment — and remains highly competitive.
The Albany Business Review notified this year's winners earlier this week.
We will honor the 30 winners at a Friday, Dec. 5 event at the Troy Hilton Garden Inn.
To choose the winners of the Best Places to Work competition, the Business Review partners with Quantum Workplace of Omaha, which uses proprietary software to survey employees about their company's work environment.